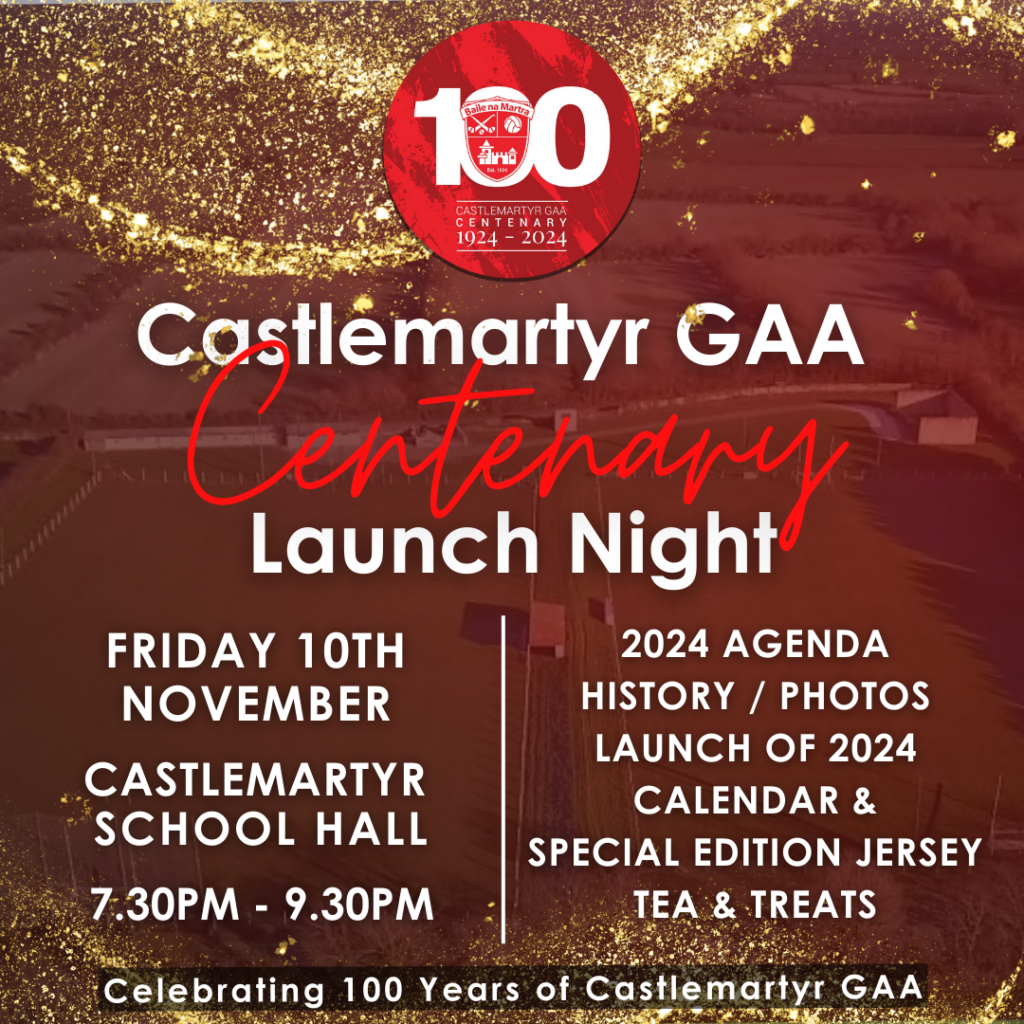 Our Club Centenary in 2024 promises to be a very exciting year of celebration and nostalgia, with lots of special events due to be organised throughout the twelve month period.
Glad to say that we can confirm that we will officially launch our events programme at a special free get together for all members, friends, neighbours and supporters on Friday November 10th . The venue will be the School Hall in Castlemartyr from 7.30pm to 9.30pm . Pat Walsh, part of our centenary committee has done a huge amount of work over many years compiling the history of the club and has a massive collection of photographs and match reports spanning the decades. Friday November 10th will be an opportunity for people to ramble in over a two hour period and take a trip down memory lane. As well as hard copy material, there will also be a continuous slide show with faces and events to stir the memory bank. Light refreshments will be served on the night.
An open invitation to everybody to join us and kick start what hopefully will be a memorable milestone year.
At 8pm – there will be a few brief formalities when we will officially outline many of the events that lie ahead in 2024. For now though advance notice is given to keep the August Bank Holiday 2024 free in the diary as this will be the central part of our celebrations and it's most appropriate that it coincides with the anniversary of Gaelic Sunday – August 4th. Lots to look forward to this weekend, so shelve any holiday plans and advise family and friends overseas of a weekend not to be missed back home.
To celebrate our Centenary Year, a special commemorative club jersey is also being designed and this along with a number of leisure items will be available to order in time for Christmas at our launch night November 10th. Also available on that night will be our Centenary Club calendar is a must for everybody with any association with the club and Castlemartyr in general. A huge amount of work has again been done by Pat Walsh on this project and the 36 pager is much more than a calendar – it is a piece of history that will certainly stand the test of time. The calendar will hopefully find a home in every GAA house in Castlemartyr and in various corners of the country and the world. It will be on sale for the first time on November 10th.
So much progress has already been made by the Centenary committee with John Whyte at the helm – much more on the way.
First things first – make sure YOU are with us at Castlemartyr School Hall on Friday November 10th to get the show on the road.
By Assistant Pro
Fri 6th Oct