Castlemartyr GAA NewsFeed
By Club PRO – John Cashman
Junior Football Championship
Castlemartyr 0-8   Bride Rovers 3-15
The Michael O'Connor Motor Factors JAFC got under way for our team earlier this evening in Ballynoe, but unfortunately it didn't prove to be a good outing.
Aided by the stiff breeze in the first half, Bride Rovers settled to their task well and were five points ahead by the time we opened our account through Eoin Cashman on ten minutes.  A fine solo effort by Daire Coughlan on twenty minutes and a late first half free from Jamie Stack were our only other scores in that opening thirty minutes.  Unfortunately Bride Rovers, led by Conleith Ryan were strong through the middle, drove at our defense and got a return of 2-10 for their efforts.
The concession of an early second half penalty virtually ended the game as a contest. Castlemartyr battled away but unfortunately never managed to get the goal they needed to tighten the margin, which means all the focus will now be on the second game against Youghal in two weeks time in Killeagh.  The sea-siders were just edged out by Midleton on a 1-10 to 1-9 score line earlier today.
Team – Conor Whyte, Odhrann Cantwell, Eoin Ronayne,  Niall O'Donovan,  Cathal Martin, Darragh Moran, Daire Coughlan,  Darragh Joyce, Mike Cosgrave, Eoin Cashman,  Jamie Stack, Eoghan Martin, Conor Ronayne, Darragh Cashman, Charlie O'Neill.
Subs – Cian Murphy, Peter Fleming, Cormac Lynch and Warren Broderick
Scorers – Jamie Stack 0-3 (incl 0-2 frees) Conor Ronayne, Eoin Cashman, Daire Coughlan, Darragh Cashman and Mike Cosgrave 0-1 each.
Big Intermediate Game
The big game for the intermediate hurling team is our trip to Lisgoold to play Midleton in what is both team's concluding Red FM league fixture.  It's a 2pm throw-in this coming Sunday and will allow our team an opportunity to become more familiar with the Lisgoold surroundings as we are due to play both Kilworth and Watergrasshill there in the championship.
Midleton, Aghada and ourselves all have 6 points, but our better scoring difference is a significant advantage – one of the trio will join Ballygiblin in division 6 next season. Interestingly Aghada's remaining fixture takes place this Friday evening away in Mayfield.
Junior Hurling
Castlemartyr  3-20 Watergrasshill 1-9
Our junior hurlers rounded off their division 2 group games with a fifth win of the campaign, running out impressive winners away in Watergrasshill. The result means we are now in the second tier final and again come up against Cloyne, whom we played in the JHL3 final at the start of the season.  The game doubled up as our opening fixture of the current campaign and was the only reversal for Dave Fleming's charges in the round robin series of matches.
Last week's win saw Castlemartyr record a number of near misses in the early minutes.  Darragh Cashman eventually opened the scoring  after 8 minutes and by the time his fine first half performance was rewarded with a 29th minute goal, the reds were well and truly in their rhythm.   They  tallied with a series of fine scores – the highlight being a spectacular finish by Niall Morgan following a superb catch. With Watergrasshil reduced to 14 men just before half time and Castlemartyr leading by 1-11 to 0-4, the brace of league points was looking safe.
Colm Beausang scored an excellent goal after very good play by Daire Cioughlan soon after the restart, which nullified a similar green flag at the other end.  The reds played some fine hurling throughout the second half and had Cian Murphy, Niall Morgan and Eoin Cashman all prominent on the scoreboard on the way to what was a very comfortable win.  Goalkeeper Derek Bowens, Niall O'Donovan, Dave Lawton and Conor Whyte were amongst those to deliver very solid hours.
Team
Derek Bowens, Odhrann Cantwell, Eoin Ronayne, Dave Lawton, Charlie O'Neill, Darragh Joyce, Niall O'Donovan, Conor Whyte, Daire Coughlan, Darragh Cashman, Eoin Cashman, Niall Morgan, Cian Murphy, Colm Beausang, Ewan Wimpenny.
Sub – Mike Cosgrave
Scorers – Niall Morgan 1-6 (incl 0-3 frees), Darragh Cashman 1-3, Cian Murphy 0-4, Colm Beausnag 1-0, Eoin Cashman 0-3, Conror Whyte 0-2, Daire Coughlan and Charlie O'Neill 0-1 each.
Final V Cloyne
As it stands the JHL2 League Final v Cloyne is pencilled in for 7.00pm at Aghavine on  this Saturday evening June 24th – but apparently this fixture may change. (update to follow later in the week)  Cloyne have enjoyed an excellent  season thus far – collecting 13 points from a possible 14 and boast a plus 58 scoring difference.
Please support Castlemartyr on the night as they look to bring home silverware.
Golf Classic
With just over  a month to go to our Golf Classic on July 19th/20th, we are renewing our call for all members to help the cause.  As everybody knows we are in the middle of a period of huge change and development at Paddy Walsh Park – so much has been done – and to do so much more, it's vital that we make this golf classic a huge fundraising success.  Thanks to all who helped so far by sourcing tee boxes, teams and sponsorship.  Please continue your efforts over the next few weeks – every contribution is vital.
Contact Christy O'Sullivan 086 804 0183   or John Cashman on 086-877 8182 for further information or to book a team/tee box.
Féile Hurling Finals
It's a huge weekend for the Kiltha Og Féile na nGael Under 15 hurlers who represent Cork in the Finals in Moneygall County Offaly. These guys have put in massive effort in recent weeks and produced some superb performances in the county section.  We wish the players and management the very best of luck on Saturday.
Abernethy Cup Launch
Recently we saw the official launch of this year's Abernethy Cup which will take place in Castlemartyr on Monday July 3rd and brings together Imokilly and Ballygunnner.  This is certainly a high profile fixture with some top class hurling guaranteed.  Our own Ger Murnane (wearing his Castlemartyr GAA and Abernerthy's hats) was amongst those present at the launch which also saw Board members and Imokilly players convene at Abernethys Midleton base. So mark the date in the diary as the Abernethy Cup returns to the calendar in two weeks time after a lapse of a number of years.  –
Monday July 3rd – 7.45pm at Paddy Walsh Memorial Park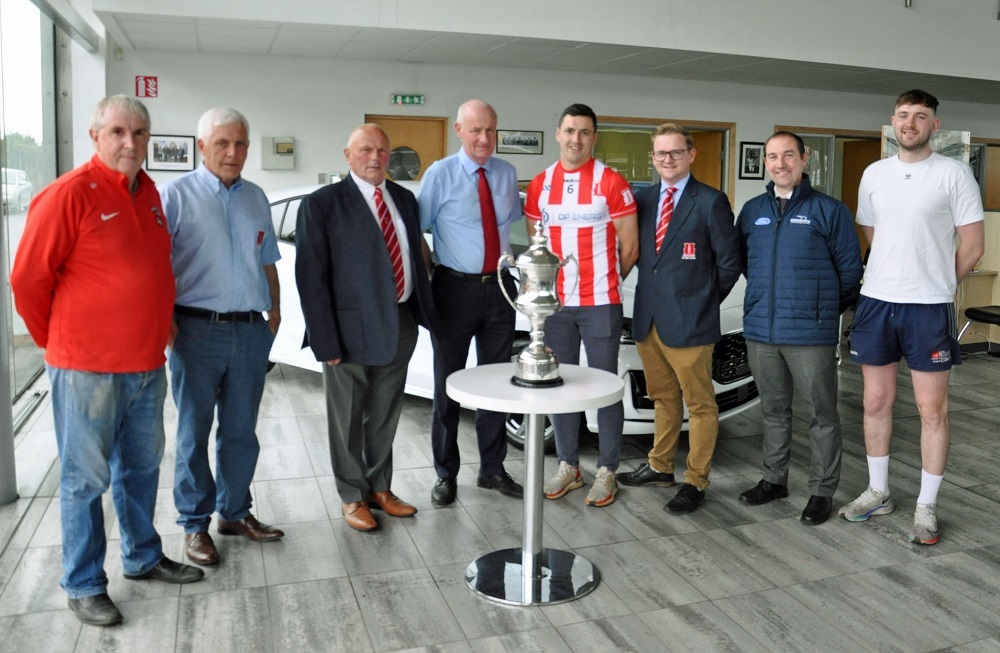 .
By Assistant Pro
Mon 19th Jun