Castlemartyr GAA NewsFeed
By Club PRO – John Cashman
Golf Classic 2023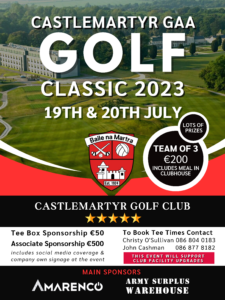 It's time to start a serious conversation about our fundraising Golf Classic which is penciled in for Wednesday July 19th and Thursday July 20th at Castlemartyr Golf Club.
The start of the new all weather facility in late summer/early autumn is a huge project and thus this year our golf classic is even more important than ever. We need a huge response from everybody associated with Castlemartyr GAA Club to ensure it is the most successful yet and that we can drive on further with our development plans, which will benefit so many people.
There are several ways YOU can help us. A team of 3 people can enter at a cost of €200, tee box sponsorship is €50 per tee box – (but we would obviously be even more delighted if people would sponsor more than one). There is also the option of joining the main sponsors by becoming an associate sponsor of the event at a cost of €500. You may also know somebody who could be approached in relation to prize sponsorship.
Now we need YOU to play your part – by seeking out some or all of the above via your business contacts, work place, family members and extended contacts at home or abroad.. As a club member or friend of Castlemartyr GAA Club we urge you to answer the call. Don't just leave it to somebody else – we really do all need to work together on this one with a combined mighty effort.
Please contact Christy O'Sullivan – 086 804 0183 or John Cashman 086 877 8182 if you require any further information/make a booking/confirm sponsorship .
Away Win For Intermediate Hurlers
Castlemartyr travelled west to play Argideen Rangers on Saturday afternoon for their seventh game of their division 5 league campaign. A fine all round team showing resulted in a 4-14 to 1-15 victory. Joe Stack and Eoghan Martin got first half goals and despite some missed chances, Castlemartyr still led by five points at the interval – 2-8 to 0-9. Joe and Barry Lawton added further green flags after the break to ensure a comfortable winning margin, on a day that saw Brian Lawton return to the starting fifteen with an excellent performance following a long term injury.
The result means the reds are now in seventh place with six points and two games remaining.
Team – Daire Coughlan, Barra O'Tuama, Darragh Moran, Eoin Ronayne, Briain O'Tuama, Darragh Joyce, Jamie Stack, Mike Cosgrave, Conor Whyte, Jack McGann, Barry Lawton, Ciaran Sice, Eoghan Martin, Joe Stack, Barry Lawton.
Subs used – Charlie O'Neill, Niall Morgan and Niall O'Donovan.
So two games remain – against Cloughduv at home on Sunday week June 11th (11.30am) and a short away trip to Midleton a further two weeks down the road. Currently Russell Rovers lead the table with eleven points, followed by Watergrasshill on ten and Argideen Rangers on nine points. Another win for us would make the table look a bit tighter as the league action draws to a close.
Junior Hurling
A busy few weeks for our junior hurlers in the division 2 league as we played the first of three games in twelve days on Monday evening. An excellent display saw Castlemartyr run out winners by 3-16 to 2-11 against Midleton.
High workrate and fitness levels allied to no little skill, with some excellent individual displays made for pleasant viewing on a sun drenched Paddy Walsh Memorial Park.
The second half showing in particular would have been particularly pleasing for manager Dave Fleming and his selectors. Having reached parity at the break courtesy of a late goal from Niall Morgan and a follow up point from Conor Ronayne, Castlemartyr bossed the second half, limiting their opponents to just one point in the opening twenty minutes.
At this juncture the score read Castlemartyr 1-14 Midleton 2-7, but two smashing goals from the stick of the impressive Charlie O'Neiil inside the closing ten minutes ensured a more comfortable winning margin. Fellow newcomer Cian Murphy was also a livewire in attack, whilst at the back the third new recruit Warren Broderikc formed part of a solid full back line that also featured Eoin Ronayne and Oisin Cantwell. Darragh Joyce had yet another big hour anchoring the defence at number 6.
Team
Rob O'Donovan, Warren Broderick, Eoin Ronayne, Oisin Cantwell, Odhran Cantwell, Darragh Joyce, Niall O'Donovan, Mike Cosgrave, Daire Coughlan, Nial Morgan, Darragh Cashman, Charlie O'Neill, Conor Ronayne, Colm Beausang and Cian Murphy.
Sub – Dave Lawton
Scorers – N Morgan 1-4 (inc 1-2 frees) Charlie O'Neill 2-1, Cian Murphy 0-4, Darragh Cashman 0-3, Daire Coughaln, Colm Beausnag, Conor Ronayne and Darrgh Joyce 0-1 each.
On Bank Holiday Monday Castlemartyr entertain bottom placed Aghada at 7pm, with a trip to mid table Watergrasshill following quickly on Friday June 9th (7.30pm) Castlemartyr currently are in third place on the table with seven points from five games. Leaders Cloyne have eleven with Midleton, despite their defeat still occupying second spot on ten points. However, we do have a game on hand on both of the aforementioned.
Community Clean Up
Castlemartyr Tidy Towns are doing great work each month on the regular tidy up of the local area. On Thursday June1st, they are seeking the assistance of GAA members to help their efforts. We need to play our part on the approach road from the wood to the pitch. Please consider coming along and lending a hand for a brief period from 7pm onwards.
Coffee Morning
A Coffee Morning takes place at Ballintotis Community Centre from 10am to 12 noon on this Friday June 2nd in aid of the Quinn Family – all support greatly appreciated.
Lotto Update
The Community Lotto jackpot has now reached €11,200 ahead of next week's draw on Monday 5th June. This week's €25 winners were Conor Barry, Fr Frank O'Neill, Willie Hayes, Castlemartyr Enrt Co Op and Miah McGrath,
Whatsapp Group
Finally, a quick reminder that if you know anybody who wishes to be added to our whatsapp news group please drop a message to John at 086-877 81 82 with details.
By Assistant Pro
Fri 2nd Jun