A Reflection by John Cashman
A record breaking few months for Castlemartyr GAA Club with back to back county hurling championship titles secured in splendid fashion.
There were no doubts, no disputes and scarcely a hiccup along the way as the rapidly developing side added the Co Op Superstores Intermediate title to the Lower Intermediate success secured just last August. Six championship games across two grades, six straight wins,  three of which were achieved in  a very luxurious manner.  In total over the six aforementioned games, the team registered 10-135 and conceded 7-93, meaning that overall they outscored their opponents by 3-42, adding up to an average winning margin of over 8 points per match.
Last Saturday's  triumph over Sarsfield's (1-19 to 0-12) in Páirc Uí Chaoimh had a similar complexion to the win over Russell Rovers (1-20 to 0-11).   There was a controlled nature about the game as it evolved – plenty of daylight coming down the home straight and little indication in either match that this maturing Castlemartyr team were going to run into late difficulties.
In fact from the moment that Joe Stack crashed home his side's goal early in the second half, Castlemartyr looked like very short priced bets to lift the Paddy Walsh Cup. Stack's deadly finish matched the fabulous approach play in a move that featured two polished passes from Barra O'Tuama and Mike Kelly. What followed was a very disciplined performance with the team embellishing their good work all season with solid defending and spectacular long range points.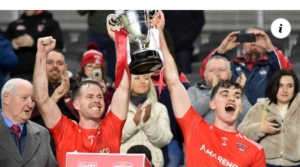 The red and white ribbons were on the silverware long before Davy Copps sounded the last whistle – the only pity being that the cup in memory of the great Paddy Walsh could not have been brought home – if only for one night!  – These are the times we are living in and it's clear that they are very special times for all associated with Castlemartyr GAA Club.
Take a bow guys – it's been a few months to live in the memory bank forever!